No more foreign bank accounts required
Have you lost business because you couldn't get a local bank account in a region you wanted to work in? With Payoneer you can get your own bank account details in Americas, Europe, Asia so you can get paid in popular currencies, as if you were a local.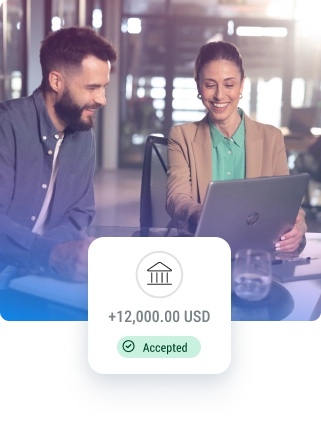 Work global, feel local with receiving accounts
Accepting the local currency in the US, the UK, Europe, Australia, China, Japan, and more shouldn't be a struggle. One Payoneer account can provide multiple sets of account details for the currencies you get paid in.
Local accounts for a local payment experience
For your client or marketplace, the local receiving account details we provide act just like a bank account so you can give yourself a global presence and get paid.
Keep your foreign currencies in one place
The money you earn with
our receiving accounts will
land in a currency balance in
your Payoneer account without
needing to be converted.
Multiple accounts
in the same currency
Keep different stores and
business lines separate with multiple receiving accounts in a single currency so you're always ready to do business.
SWIFT (wire)
receiving account
Don't see the currency you need
to receive? Our SWIFT (wire) receiving account can receive payments from anyone, anywhere through the SWIFT network to
your Payoneer account
Great for getting paid by Amazon
Amazon's global marketplaces require local bank accounts to receive payments, but who has time to open all those accounts? Instead, use your Payoneer receiving accounts as your local bank account details for Amazon and other marketplaces and keep growing your global ecommerce empire.
Getting paid by clients
If your client asks for a bank account to transfer your payment, give them your Payoneer receiving account details. They get an easy, local way to pay for your services and you get to collect the payment directly to your Payoneer account without the need for an international wire fee.
See what other businesses and entrepreneurs are saying about partnering with Payoneer
See what people are saying about Payoneer and how it helps oil the wheels of freelance work on all the world's favourite marketplaces and platforms.

Eduardo Grude
Co-Founder, GrudeWeb
"For several months I was looking for options to allow me to open a bank account in the USA without traveling. Payoneer not only helped me solve my main problem but also gave me a solution to pay for internet advertising services to reach potential customers"
Frequently asked questions
---
We are excited to announce we have partnered with Payoneer, to offer you a fast, low-cost and easy way to receive your payments.
Every receiving account is connected to a currency balance and you can hold the currencies there until you are ready to use them, withdraw them, or transfer them to a different currency balance if your business needs it.
Companies in the following countries can pay you in local currency to your local receiving account, in accordance with our Terms and Conditions.
| Country | Currency | Transfer method |
| --- | --- | --- |
| United States | USD | ACH |
| European Union | EUR | SEPA |
| United Kingdom | GBP | BACS or FPS |
| Japan | JPY | Zengin |
| Australia | AUD | BECS |
| Canada | CAD | EFT |
| Singapore | SGD | GIRO/ACH, FAST, or MEPS |
| SWIFT, any country | USD | SWIFT |
| Hong Kong | HKD | Autopay, RTGS/CHATS, FPS network |
| United Arab Emirates | AED | UAEFTS (RTGS and IPI) |
Payoneer provides you with the details of a receiving account in the currency you need to get paid in.
You provide those details to the company or marketplace that you need to get paid by and they use these details to send you a local bank transfer.
The transfer lands in your Payoneer account and from there, you can use your funds in a variety of ways or withdraw them to your local bank account.
Please note that while these accounts function like bank accounts in many ways, they are not actual bank accounts and cannot be charged. Any charge attempts will be declined.