Relax, we totally get tax
The more global your business, the more time, effort, and resources tax takes. When you're dealing with royalty payments, 1042 forms, and tax compliance, our full tax stack automates and integrates tax payments on a single platform.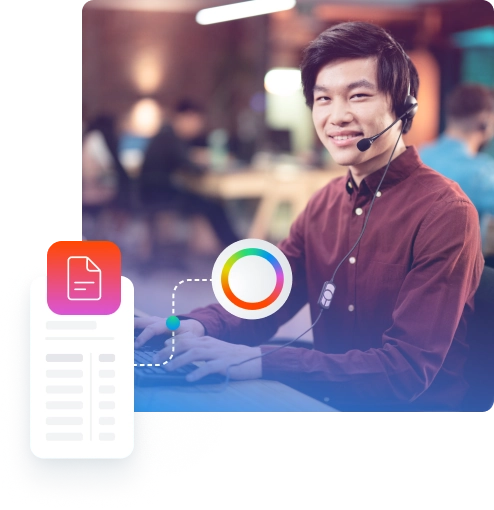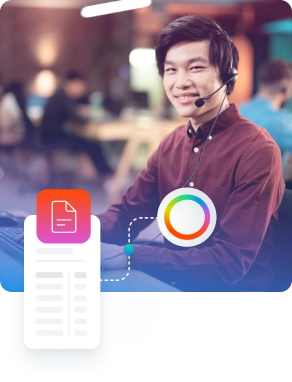 Tick off your to-do list
Payoneer's full tax stack does the work of multiple vendors. Our unrivalled integration at scale gives you access to more than 2,000 marketplaces across 70 currencies and 190+ countries and territories. Last year alone we managed over 160,000 tax forms – we get tax, and you can get it all done through one vendor.
Automate your tax workflows
It's like automation was made for tax forms. Why do 1042 forms yourself – or engage multiple vendors – when Payoneer shoulders the burden of form collection, reporting, and filing? Our self-service platform reduces completion errors and helps payees do the right thing at the right time. Plus, our workflows integrate with your existing systems through APIs and our IPCN (Instant Notification Completion Process).
Payee experiences matter
Payoneer provides an all-in-one service for tax, payouts, and international trade. When it comes to payee experience, we make it easy for payees to submit tax forms and get paid the correct amount, on time. And our multi-currency, flexible payout options – from local bank transfers to digital wallets – save time and effort. Your payees will appreciate the joined-up experience of bringing tax compliance and global payments together.
Managing your 1042 tax forms
If you're US based, we can manage your 1042 and 1042-S forms through to filing with the Internal Revenue Service (IRS). The forms record US income paid overseas to business and individuals – earnings like digital royalties, dividends, and much more. Our automated, integrated, and powerful solution streamlines all your 1042 tax form submissions by effortlessly guiding payees through every step.
End-to-end service
Payoneer ensures accurate data that's efficiently collected for every 1042 form and payee. And we don't just handle 1042 forms – our service also extends to W9, W-8BEN-E, W-8ECI, 1099 MISC, 1099 MEC, and 1099k.
The work of many
Payoneer does the work of
multiple vendors by automating collection, like triggering events when forms need submitting and tracking progress. We also archive forms for IRS auditing.
Un-complicating tax
Guided and automated self-service simplifies each step in the process: form collection, withholding rate calculations, reporting, TIN matching, and filing. We help payees understand and complete forms – plus our app makes tax form submissions even easier.
Global compliance
In 190+ countries and territories and 70 currencies – wherever your payees are based – all disbursements are made through our fully compliant, secure, and audited platform that's recognized and valued by financial regulators around the world.
Frequently asked questions
---
We are excited to announce we have partnered with Payoneer, to offer you a fast, low-cost and easy way to receive your payments.
A 1042 form is filed to the IRS to report the tax withheld on certain US-based incomes of foreign nationals. 
A 1042-S form is also issued by and submitted to the IRS. If you pay a US source of income to foreign payees, you must submit a completed 1042 and 1042-S form for every overseas payee you have paid. Each 1042-S form details the amount of US income you have paid to a particular foreign national. Typical payments reported on a 1042-S include royalties, dividends, real estate income, pension income, scholarships, gambling winnings, interest, grants, prize money, and insurance premiums. 
Our tax services solution is one of the most comprehensive on the market. By including 1042 forms, we have provided a significant advantage to US-based businesses that are regularly paying digital royalties to non-US-based creators. Our solution removes the burden, time, and cost of manual form filling. It also provides accurate withholding calculations for every payee. And it enables you to help your payees to be compliant with IRS regulations throughout the financial year. 
Your payees will receive emails prompting them to complete the relevant form for their needs. Each of those emails is automated and can be branded with your company logo and colors. 
Yes. You can see which payees have completed, started, or not yet started their submission process. 
Yes. All completed W-, 1042 and 1099 forms are stored securely, so you will always be able to respond quickly in the event of an IRS audit. 
We can explain how to technically fill out a W- form using our tax services solution, but we cannot advise on the specifics of what information to enter (this would fall under 'tax advice'). Instead, you should seek advice from a certified tax professional or the IRS. 
A tax wizard questionnaire offers guidance for payees to choose and complete relevant forms. However, we do not and cannot offer specific advice about what information to include in any form. Please seek professional advice where necessary. 
When you sign up with Payoneer's tax services solution, you provide the contact details of your payees. From there:
1. Your payee receives an email asking them to complete the relevant W- form.
2. Their submitted information is collected by Payoneer, stored securely, and then passed on to a third party that makes a precise withholding calculation for each payee.
3. All withholding payments per payee are then aggregated and automatically fed into a 1042 or 1099 form, which you can review before submitting it to the IRS.