Mass payouts for the many
Many, many people and businesses already use our robust payment APIs to make secure mass payouts to payees in 190+ countries and territories and 70 currencies.
Payouts without the pain
First, we ensure you comply in every country you send money to via our secure, regulated, and tightly audited payments platform. Then we help you save time, cut costs, reduce fraud, and pay quicker – pain-free for your business and excellent news for the payee experience.

See how Awin, a global affiliate marketing platform, partnered with Payoneer and made $53.8M in cross-border payment in 2021 alone.
Millions of mass payouts. Done.
Every business needs a way to handle high volumes of payments while making cashflow more predictable. By automating mass payouts and integrating directly with your own platform, you instantly have global reach and full payment transparency. Here are some of the ways mass payouts can help you.
Enable your global growth
Get access to 5 million sellers, freelancers, contractors, developers and businesses already on the Payoneer platform. Instant global reach without the high costs and complexity.
Give payees flexible choices
Streamline payee experiences with faster payments, flexibility, and choice. You decide what's best for you and your payees. Then we help you make it happen with mass payouts.
Get global and local support
We're here for you and your payees. Our support teams are available 24/7, as is the Payoneer Community. Plus, we can answer your mass payout queries in more than 22 languages.
Automate your payouts
Gain control of your cashflow and manage all your payouts on a single platform with Payoneer. It's a proven way to avoid missing payments and cut the time you spend on payouts and payee support.
Minimize risk and fraud
Entrust your KYC, AML, and other fraud prevention processes to us. And our tax and compliance services are backed by our regulated and audited platform that's globally recognized by regulators.
How we simplify mass payouts
Cross-border business payouts at scale can be complex. Our mass payouts are API-enabled – that means you can initiate payments from your side. Funds are automatically converted into the correct currencies and arrive within minutes. Here's how it works at a glance.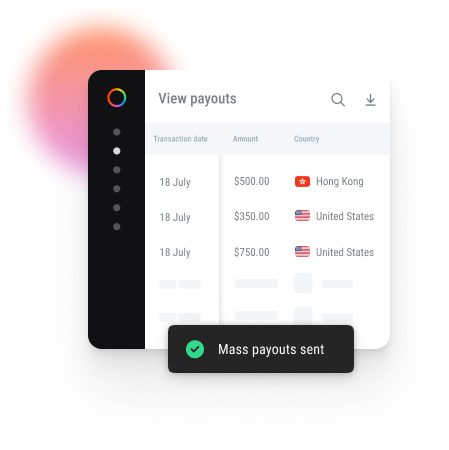 Get unstuck
Don't get bogged down in rules and regulations for mass payouts (there are a lot). We talk the language of international payments and we're here to ensure you don't get stuck with heaps of payment paperwork.
What you say matters
Your experiences help us improve Payoneer and develop and improve our services, like mass payouts.

Tali Lederman
Strategic Partnerships & Operations Manager, Catch
"We've been able to work with both local and international Payoneer teams and that's really helped us to grow as a marketplace and also to provide really great service to our merchants."
Frequently asked questions
---
Still got questions about Mass Payouts? Read our frequently asked questions answered by our experts.
You can either embed the Payoneer signup page into the payment are of your website, so users can register directly to receive payments through Payoneer, or manually send your payees a signup link. Existing Payoneer users can easily link their Payoneer account to yours by entering the email address associated with their Payoneer account.
Fund your Mass Payouts account in 30 currencies by sending the total amount covering the payout to one of our trusted bank accounts and the amount will be updated within a day. You can fund the account by bank transfer or using third-party payment service providers.
You can offer your payees to receive the funds straight into their Payoneer account, local bank account or eWallet.
With a Mass Payouts account, you can hold up to 30 currencies and make payouts in 70 currencies taking advantage of our affordable currency conversion services. The currency your payees will receive the funds in will depend on the currencies you decide to make available to them.
For payouts made to Payoneer accounts, payees will receive the funds within minutes, while it can take up to 3 business days for the funds to become available via bank transfers. Have a look here for more details about the timeline of payouts.