Payoneer for digital gaming
Non-stop gaming
As the global gaming market continues to grow, can your payment processes level up? That's why so many gaming firms and marketplaces already work with Payoneer.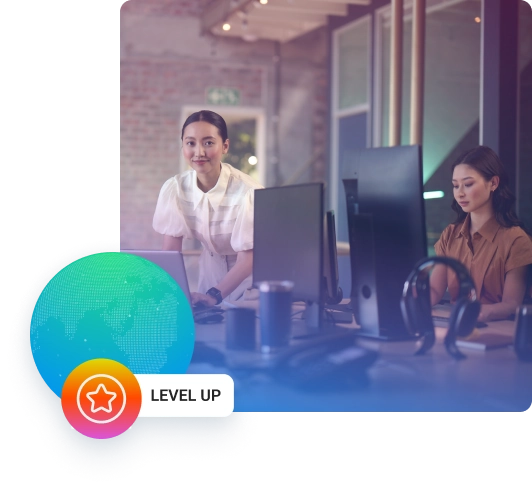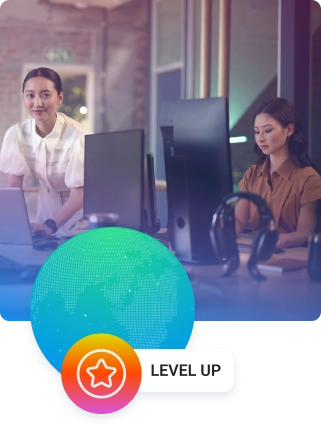 We're on your level, globally
Payoneer connects with more than 2,000 marketplaces, platforms, and networks. Whether you're a game developer, publisher, or a platform – we can help your workforce and your gaming communities to live, work, play – and to pay and get paid. Here's who we're already working with to achieve all that.
Two-player game
When you're trying to create your latest and greatest game, payments shouldn't hold you back. Two brains beat one: while you're doing your gaming thing, we'll keep on with nailing global payments – cross-border and in multiple currencies.
Together, we've got this and here's the help you can expect from Payoneer.
Pay your way
With Payoneer, your gamers can receive funds via a Prepaid Mastercard® and use the balance to buy online and in store and make ATMs withdrawals. Plus, you can make local bank transfers almost everywhere your games reach and get paid direct to a Payoneer account.
This is Planet Gamer
Future growth in the gaming industry will be driven by emerging markets. So, you need to be ready and in control of your payment processes to disburse payments quickly, efficiently, and as conveniently as possible for your gamers and workforce. We already support withdrawals in 190+ countries and accept payments in major currencies.
Payments, gamified
A fast and seamless payment experience is one of the ways you can keep people playing. Also, more gaming time means there's more opportunity to monetize. With Payoneer, we make payments easy and pave the way for new payment methods and providers.
Fight fraud for trust's sake
Losing trust could mean game over. From fake accounts to phishing, you need to protect your business, assets, partners, and gamers. Payoneer fraud protection identifies and validates transactions, traces fund flows, and profiles user behaviors. Just a few reasons why our fully compliant, secure, and audited payment platform is recognized and valued by global financial regulators.
Made for gaming
Our payments technology platform is tried and tested – and not only by gamers. We're talking millions of digital publishers, online sellers on 2,000+ marketplaces, and artists, contractors, and freelancers worldwide. They're everyday proof that Payoneer payments are flexible, robust, comprehensive, and scalable.
Don't lose out to tax
Gaming's global reach creates cross-border payments in multiple currencies. And these transactions generate plenty of tax liabilities and a trail of paperwork that needs to be collected from payees, reported, and then filed with the relevant tax authorities. Payoneer's end-to-end service (currently only available in the US) helps you simplify tax, while ensuring you and your gaming community are fully tax compliant.
Guidance for gaming payments
---
Cross-border payments in any global marketplace are complex. Don't worry, our international team is available (in 22 languages and counting) to answer questions, offer advice, and help you navigate payments in gaming.
---
Frequently asked questions
---
Still got questions about Mass Payouts? Read our frequently asked questions answered by our experts.
With Payoneer Mass Payouts you can pay hundreds of gamers simultaneously, across the world, using multiple payments methods and multiple currencies. Invite gamers to sign up to Payoneer, fund your Mass Payouts account by sending the total amount you wish to pay to one of our trusted bank accounts and the amount will be updated within a day.
For integrated partners, you simply initiate a payment API call to our payment engine. Alternatively, through your Payoneer Mass Payouts admin area you can upload a csv file with payment instructions or select the users who need to get paid, enter the amount and click 'Pay'.
Our fees are flexible, just like us. We work directly with our customers to find the right solution at the right price. Want to find out more? Get in touch with our friendly team!
With a Mass Payouts account, you can hold up to 30 currencies and make payouts in 70 currencies. The currency gamers will receive the funds in will depend on the currencies you decide to make available to them.
You can either embed the Payoneer signup page in the payment area of your website, so users can register directly to receive payments through Payoneer, or manually send your payees a signup link.
Existing Payoneer users can easily link their Payoneer account to yours by entering the email address associated with their Payoneer account.
The Payoneer Collection API allows you to automatically debit a consenting Payoneer user's balance, removing the hassle of managing payments. This is a great way to make it simple for your payees – not only can they use Payoneer to withdraw their earnings, but also can use their Payoneer balance to pay for other services and fees on your platform, such as subscription fees or other periodic fees.
Your payees can opt-in to make ongoing payments from their Payoneer account for free, while you benefit from immediate settlements, no chargebacks and lower operating costs with only a small percentage fee charged per successful transaction.
Paying gamers around the world in multiple currencies generates plenty of tax liabilities and a trail of paperwork that needs to be collected from payees, reported, and then filed with the relevant tax authorities.
With Payoneer's end-to-end service you only need one vendor to sort out all your tax needs, from helping your payees choose which forms to fill in to collecting, approving and submitting them to the IRS, we can take care of it all, so you can save time, money and resources.