Billing without the pain
Billing clients efficiently is a simple way to improve cashflow. With a free Payoneer account, invoices are customizable, quick to send, easy to track, and offer multiple payment methods – it's all gain, no pain.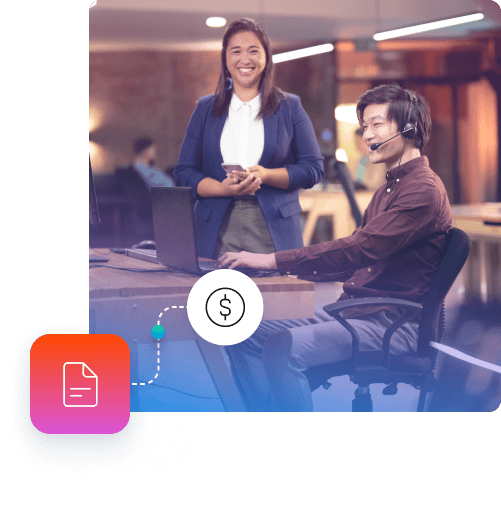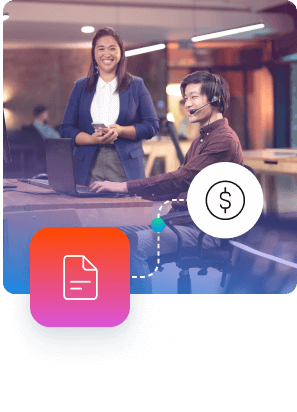 Invoicing goes international
With Payoneer, you can send invoices here, there, and everywhere. It's time to simplify how you get paid with one Payoneer account that connects you to clients in over 190 countries.

Your invoices are your business
When it's time to get paid, a professional-looking invoice goes a long way to creating the right impression of your business. With Payoneer's free invoice generator, you can quickly customize templates – like adding local taxes, currencies, terms, and you or your client's preferred payment methods.
Ace your cashflow
Why make life harder than it needs to be? That goes for billing too – make it easy for clients and they might pay you sooner. You can save, track, and manage invoices and client details in your Payoneer account. So, you can quickly nudge late clients with a timely reminder.
Everyone knows where the funds go
You and your client can both track the payment when an invoice is paid with Payoneer. Extra visibility for less hassle so you don't have to wonder where your funds are.
Multiple invoice payment methods
Whether your clients are individuals, businesses, or marketplaces, your Payoneer account enables payment processes to flexibly flow, smoothly and seamlessly.
Invoices around the world
Set up your Payoneer account to easily bill clients in over 190 countries and offer them a great payment experience.
Global meets local
Get local receiving accounts which allow you to accept local bank transfers in USD, EUR, GBP, JPY, CAD and AUD – as easily as a local bank account would.
Prompt payments
Request a payment in your Payoneer account. Your client will get an invoice with ways to pay – by credit/debit card, ACH bank debit (US only), direct bank payment (UK only), or local bank transfer.
Easy access to your earnings
You've completed the work and the money is there. Now you need easy access to your earnings – no matter what currency you're paid in.
Mastercard® makes it happen
Apply for a Payoneer Card to buy online, in store, or withdraw at ATMs. Powered by Mastercard, Payoneer card payments are accepted almost everywhere.
Bring it all home
Withdraw funds from Payoneer directly to your local bank account, in your preferred currency.
Money on the go
Our mobile app is made for busy freelancers. It's the simplest, most convenient way to manage your money – while you're on the move.
Your account is waiting
---
Opening a Payoneer account is the first and most important step toward more efficient international invoicing and handling cross-border payments with ease.
---
GET ANSWERS IN OUR FAQS
---
Sign in to Payoneer.
From the main menu, go to Activity and then Payment Requests Sent.
From the table, click on the payment request you want to manage.
On the Timeline tab, you can see the most updated status of your payment request.
Click the Details tab to get all the details of the payment request.
Fees depend on the payment method chosen by your client. 
| Payment method  | Credit card  | ACH bank debit (US only)  | Local bank transfer  | Payoneer account  |
| --- | --- | --- | --- | --- |
| Associated fees (%)  | 3%  | 1%  | 0-1% USD Fees vary by region FREE EUR, GBP and more  | FREE  |
| | Credit/Debit Card (MasterCard®, Visa®, American Express®) | ACH bank debit (electronic check) | Direct Bank Payment | Local Bank Transfer | Payoneer Balance |
| --- | --- | --- | --- | --- | --- |
| Payment Made | Online via Payoneer | Online via Payoneer | Online via Payoneer and your bank account | At your bank (online or on-site) | Online via Payoneer |
| Can Be Used By | Individuals / Companies Worldwide Cannot be used for domestic payments in India or Turkey | Individuals / Companies in the US only | Companies in the UK only | Companies in the US, EU and UK | Payoneer account holders Worldwide *Subject to availability |
| Payment Limit | 15,000 USD 15,000 EUR 15,000 GBP | 15,000 USD/transaction | 15,000 GBP | 100,000 USD 100,000 EUR 100,000 GBP | 15,000 USD 15,000 EUR 15,000 GBP |
| Fee (% of payment) | 3% | 0-1% | Free | USD: 0-1% EUR, GBP: 0% | Free |
| Payment Received Within (Estimated)* | 2 calendar days | 5 business days | 1-3 business days | 1-3 business days | 2 hours |
Once you fill out the details of your invoice, we'll send an email to your client on your behalf, with details on how to pay (you will receive a copy for your records). Your client chooses their preferred method of payment and sends the funds directly to your Payoneer account.
You can withdraw the funds to your bank account or access them with your Payoneer card.
*If you are based in India, payments received to your Payoneer account are automatically withdrawn to your local bank account within 24 hours.
To create an invoice, click on "Get Paid" in the main menu in your Payoneer account and choose "Request a payment".
Fill out the payment details and submit the request.
Once done, we will send an e-mail to your desired payer with instructions on how to make a payment.
If you haven't sent an invoice before, you'll be asked to provide information about your business and supply documents to confirm your identity. These steps are necessary to verify that your business is supported under our terms of service and to prevent fraud and identity theft.
Once you submit the requested documents you'll be able to start sending invoices immediately. We'll be in touch by email if we need additional details.
Please note that customers who live in some countries must first receive a minimum of 5,000 USD in total payments. If you are from one of these countries, you can see how close you are to the minimum threshold required on the request a payment page.
You can send invoices to other businesses worldwide. For example, a freelancer can request payments for web development services from a client who is building a web site.
It does not support payments from consumers (individuals who are not professionals or businesses) paying in your online store and is not meant to be used as a payment gateway (checkout) for your ecommerce store.
Before completing the invoicing process, your client can select who pays the applicable fee. To avoid any misunderstanding, we suggest you discuss this point with your client in advance.
If you are located in a European Economic Area (EEA) country, as of January 13, 2018, in compliance with the European Payment Services Directive (PSD2), the fee will automatically be deducted from your Payoneer account.