Simplify your eBay payout
Payoneer's partnership with eBay streamlines the seller experience. Get paid quickly, keep more of what you earn, and track your store revenues to grow your eBay business.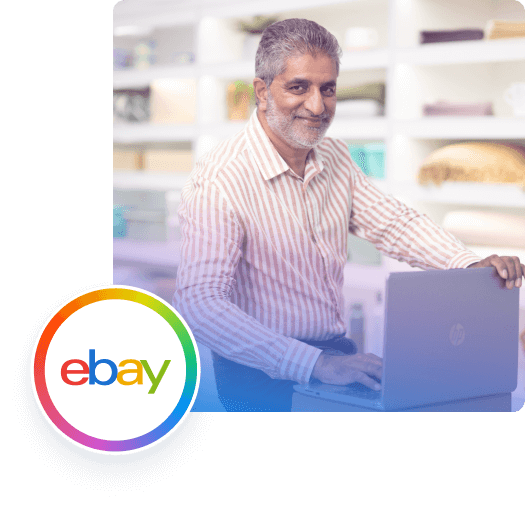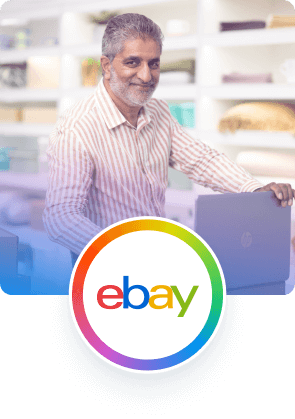 Start with Payoneer
Payoneer works seamlessly with eBay and more than 2,000 other marketplaces. No matter which platform you focus on, we make it as easy as possible to get paid, consolidate your marketplaces, and unite your payment world in one account.
Connecting eBay and Payoneer
Sign up for a Payoneer account – doing that first makes for a smoother and secure eBay registration process. We'll ask you to confirm your name, address, bank account, and a few other details. Then, after a quick identity verification for you and your company, it's time to get you paid.
Managing your eBay earnings
When you've connected eBay and Payoneer, you're ready to get paid. Your eBay payouts will go directly to your Payoneer account in US dollars. Here are some ways to use your earnings, keep more of what you earn, and grow your business.
Go local
From your Payoneer account, you can withdraw your eBay earnings directly to your local bank account. Order a card to have even more spending options when buying online, in stores, and anywhere else Mastercard® is accepted.
Convert currencies
Use your Payoneer balances to switch between currencies – with low fees, competitive exchange rates, and no hidden charges.
This helps ensure you can pay people and companies in their preferred currency.
Pay for goods and services
Pay suppliers, contractors, VAT authorities and Ebay seller fees directly from your Payoneer account, or make business purchases from millions of vendors and stores worldwide.
Partner up with experts
Use your funds to access a world of partnerships with service providers and companies that work directly with Payoneer.
Managing multiple marketplaces
If you're established on eBay, you'll probably have more than one store and you're likely to sell on other marketplaces and platforms. Payoneer is the one account you need for all your marketplace activity – streamlined, consolidated, and smart.
Marketplace mix
Manage payments from multiple stores without logging into each marketplace,
saving you time and effort.
Monitor revenues
Analyze and compare your different stores' revenues so you can see what's selling –
and what isn't – and optimize your efforts.
Track performance
Track how your stores are performing across different geographies and marketplaces so you can get the big picture of your operation.
Help from Payoneer
---
For eBay sellers, a global marketplace and high volumes of international payments can be complex. We're here to help and advise you on making the most of the eBay marketplace in 22+ languages.
---
Frequently asked questions
---
As a fully regulated US company, Payoneer takes financial security and payment regulations very seriously. We are a registered US Money Service Business (MSB) that has been in operation since 2005 and are certified at a PCI Level 1 Data Security Standard.
We strictly adhere to a comprehensive set of global payment regulations in order to ensure the financial security of both Payoneer and our account holders.
For further information on all security-related matters, including tips on preventing identity theft and phishing attempts, please visit our Security Center.
We will notify you once we're ready to collect your documents, which can be submitted through our platform. Please note that it might take several weeks for your documents to be approved once submitted. 
Yes, in order to start receiving your eBay payouts with Payoneer, you will need provide additional documents. Please find the full list of documents above.
When registering for eBay to manage your payments, you will be able to select the "existing Payoneer account" option.
After signing into your existing account, your eBay funding source will automatically be connected to Payoneer.
Existing customers might be asked to provide additional information to comply with eBay's terms. In addition, we'll be emailing you with more information about the eBay onboarding process, which applies to existing accounts as well.
Note: As part of eBay managing your payments, when onboarding to Payoneer eBay will sync your eBay entity details to match those in your Payoneer account.
Yes! We recommend registering using the link provided in the eBay sign up process. This will ensure a smooth onboarding experience and avoid any friction during the document verification process.