Fast international payments are what we do
If you sell across borders, you know the value of trading efficiently and getting paid on time. So, we help you get paid securely, smoothly, and fast in multiple currencies with our all-inclusive international payment solution.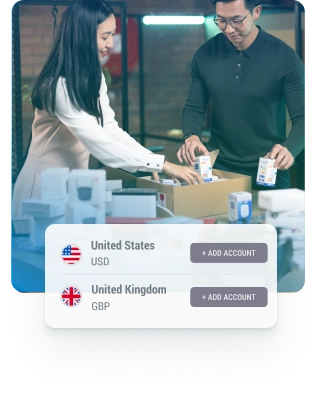 Open for business everywhere
One Payoneer account connects your business across borders to customers, markets, suppliers, and banking services. It's the only payment platform you need to streamline getting paid, smooth out your cashflow, and grow your business.
Do what you do,
without borders
Your core focus is running your business, not the complexities of getting paid internationally. So, we uncomplicate cross-border business in 190+ countries. Our offer to you: a smart way to expand your reach, get paid in all major currencies, and gain convenient, cost-effective access to your multi-currency earnings.
Go with the flow
Efficient billing is the cornerstone of cashflow. The quicker and easier you can send invoices once the work's completed, the faster you can get paid. With Payoneer, invoices are customizable, fast to send, and easy to track. Plus, our platform caters to all your customers with payment options to suit them.
Flexible ways to get paid
Wherever your customers are located and whether they're individuals, businesses, or marketplaces, Payoneer makes payments smooth, seamless, and straightforward.
Reach new marketplaces
If you get paid through marketplaces, Payoneer can connect your business with 2,000 marketplaces and seller platforms like Amazon, eBay, Upwork, Airbnb, Fiverr, 99Designs, iStockPhoto, ClickBank, and more.
Payoneer provides local receiving accounts which allow you to accept payments in multiple currencies including USD, EUR, GBP, JPY, CAD and AUD. Then you can withdraw to your local bank account to bring it home.
Get paid promptly
Request a payment directly from your Payoneer account. Your customers get an invoice with ways to pay – by credit/debit card, ACH bank debit (US only), direct bank payment (UK only), or local bank transfer.
All your currencies in one place
You've completed the work and got paid. Now you need a secure, user-friendly place for all your earnings – no matter which currency you're paid in.
Bring it all home
Payoneer brings together all your online earnings into one unified account. See all your store payments from the same place without logging in to different platforms, accounting tools, and marketplaces.
Payoneer Checkout lets you build a great checkout experience and manage global payments. Plus, it's easy to integrate with a choice of embedded, hosted, and plug-in options. Find out more
For everything else, there's Mastercard®
Use your Payoneer balances to buy online, in stores, or withdraw at ATMs with a Payoneer card – for individuals and a commercial card for businesses.
Panorama of payments
While we cannot predict the future, we know it will be digital and global – just like our payment platform. As your business expands internationally, Payoneer helps you retain more of what you earn and keep your cashflow looking good.
Accept all major currencies
Get paid in and transfer funds between multiple currencies including pounds (GBP), euros (EUR), dollars (USD) and more.
No need for local banks
Skip the time and costs of setting up local bank accounts and get paid with one Payoneer account instead.
Many markets become one
We're here to help you get paid faster with streamlined processes and consolidate your earnings in one place.
Your funds, your choice
Make payments directly from your account, withdraw locally, or use your Payoneer card at ATMs, online, and in-store.
Payments in your language
---
There are lots of rules and regulations around getting paid internationally. So, our international team offers all the expertise you need in 22+ languages.
---