Welcome to Payoneer Grow!
Content Overview
Account creation and onboarding
Register yourself or your company
Submit the correct documents
Receiving Payments
Send a payment request or share your banking details with your payer
Connect your Payoneer account to your account in our partners
Learn what can stop a payment
Use of Funds
Learn how to withdraw your funds to your local bank account
Send payments around the world or to other Payoneer accounts
Connect your Payoneer account to other platforms
Payoneer Card
Check the range of possibilities the Payoneer card can offer you
Check applicable fees
Virtual or Physical, which card is best for you?
Order your card
Most common questions from our customers
You can have 2 Payoneer accounts if it's not an "individual" account and the second account a "sole proprietor" account. If this is the case, you will need to decide which one you would like to keep and close the other.
You can have an individual account and a company account if your company account is not a sole proprietor company. If you created an individual account and after realized you needed an account for your business, please open a ticket with our Support team and we will help you to close your individual account for you to open a new company account.
The amount you can withdraw depends on the following:
Your available balance
Your minimum and maximum withdrawal amounts per transaction
These details are unique to each Payoneer user and are clearly displayed beneath the relevant field. In addition, there is an overall monthly withdrawal limit. If you pass that limit or want a higher one contact us.
If you receive payments from Vacation Rental Companies, your account will be restricted because Payoneer only accepts B2B payments. If you have another line of business and would like to use all possible ways to receive funds of a Payoneer account, please open a new account for that business.
Account creation and onboarding
Account creation documentation
Documents should be government-issued, and the issuing country must be recognizable.
Please submit pictures and not scanned docs or digital versions of it.
If you have a Company Account
ID: Passport, RG ou Physical driver's license (do not send the digital document) of the legal rep
Company documentation: Certificate of Registration, Certificate of Incorporation, Business license, Proof of company activity
Proof of company address: please submit a utility bill under your company's name. It cannot be under a person's name in the case of a company account. It's accepted: gas, energy, internet, water, telephone, rent ou bank statement with your company's name and address. If you don't have any utility bill under your company's name, please submit the bank statement of your company's bank account with address and name appearing.
If you have an Individual account
ID: Passport, ID ou Physical driver's license (do not send the digital document)
Proof of residence: please submit a utility bill under your name. It's accepted: gas, energy, internet, water, telephone, rent or bank statement with your name and address. If you don't have any utility bill under your name, please submit a proof of relationship between you and the person who has the bill (e.g., certification of marriage, birth certificate, etc.) under the same PDF.
Tips
If the questionnaire about your business is "submitted", that's already enough to send a payment request! We will review it as soon as the first payment arrive in your account.
The bank account is only for onboarding security check – this info will not be shared, and you will be able to change it later
If you have a CNPJ or a unipersonal company, please register under company to have a better experience. You won't be able to change it later, only creating a new account.
Receiving Payments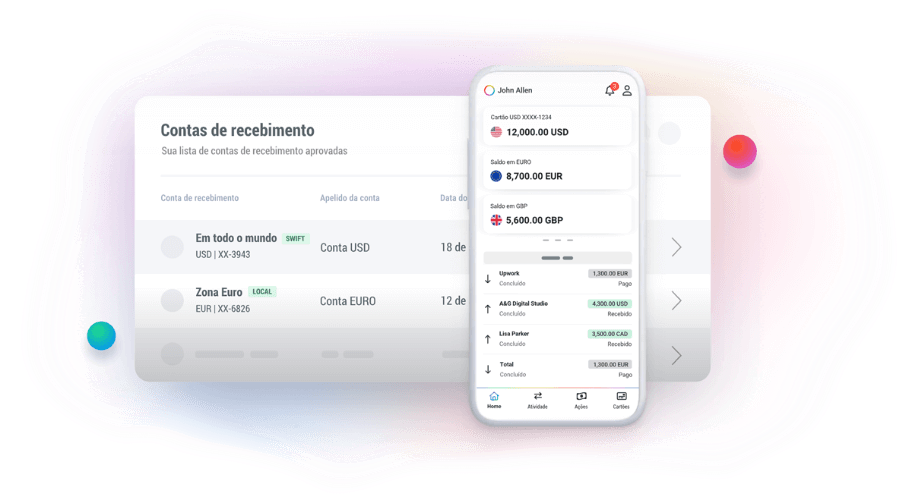 Local accounts to receive payments
Payoneer works like a hub of receiving accounts worldwide for you or your business. You will have a local bank account to receive payments in another country (currencies: USD, CAD, GBP, EUR, AUD, etc…). Each account will only accept payments in its currency.
You can enter "Receive" > "Accounts to receive payments" and view your banking details in the currency you need to share with your payer. If you want an account in a new currency, you can order it in the same place.
If you have never used this product before, please complete the "Questionnaire about your business" to enable it. PS: if you don't have a URL of your business, please share your LinkedIn profile.
To request a new currency, if you don't have the option to opt-in, please request it from our team here.
You can use this account as a withdrawal to a bank account in marketplaces, freelancers platforms, and e-wallets (e.g., Amazon, Upwork, Workana, Stripe, Wise, PayPal, etc). Tip:
If you want to transfer funds from PayPal, please request here to our team an account in the Community Bank for better approval
If you need to receive a Fed Wire, please request a Citibank account from our team here
Request a payment (with credit card option)
Using the "Request a Payment" solution, you can send an email with a payment link to your payer, and he can choose to pay you:
---
Via credit card from anywhere in the world (AMEX, VISA, MASTERCARD);
---
Via Local Bank Transfer (USD, GBP, EUR, and CAD);
---
Via another Payoneer account balance if your payer is also a Payoneer user.
Fees
Credit card: a 3% fee will be charged*
Local Bank Transfer: 1% by default*
Payoneer account: free
*The payer or the receiver can pay it. The payer can define when making the payment.
If this is your first time using Request a Payment, you will be requested to fill in the questionnaire about your business. You will also need to have an approved ID. Make sure it's submitted before moving forward with the payment request. First, access "Receive" > "Request a Payment," and then it will enable you to send the necessary information to your Verification Center.
TIP: in the questionnaire about your business, if you do not have a website/URL, please add your LinkedIn profile link.
The payment will be loaded into your Payoneer account in 48 business hours after the payment is made or after all documentation is approved. Once your payment is loaded, you will see it in your account's balance. You can use it as you wish (withdraw to your local bank, use it through the Payoneer card, or use it to pay third parties).
Receive a payment from other Payoneer account
In Payoneer, you can receive payments from other users without any cost.
To be eligible for sending this type of payment, you must have received either:
USD 500 from companies that are Payoneer partners (e.g., eBay, Hotmart, Amazon, etc.) or from a payment from using Payoneer's receiving accounts
USD 1000 if received payments from other e-wallets and "Request a payment."
Limits:
Send daily: 25k
Receive daily: 25k
Send monthly: 50k
Receive monthly: 100k
If you need to increase your limits on receiving or sending, please get in touch with our Customer Care team here.
If you would like to know more about batch payments (e.g., to pay your employees/contractors/content creators using this product), please fill in this questionnaire.
Receive a payment from a Payoneer Partner
---
Freelance
---
Ecommerce
---
Content Creation
---
Marketing
---
Travel
---
Translation
If you have doubts on how to connect a partner account to your Payoneer account, please reach out to our Customer Care team here.
If you connected your Payoneer account to a partner and is having issues to disconnect it, please reach out to us here.
If you had a service closed/blocked (payment services or make a payment), in your Payoneer account due to be connected to a partner (e.g. Airbnb) please send us an email here.
Pending, canceled, or never received a payment
If you have a payment that is pending in your Payoneer account, this might have happened primarily due to the following:
Pending documents from you in the Verification Center:
You probably have pending documents or information requested in your Verification Center. To approve your payment, you will need to provide it accordantly. Please access our tips on the documentation here.
Pending documentation from your payer:
Your payer must send us, for example, an ID verification (e.g., from the credit card owner) or Company documentation. Sometimes, we will need to verify the payment initiator.
Purpose of the payment:
You will be requested: Invoices, work contracts, correspondence with your payer, and URL verification to confirm the type of services you are providing.
If you had a canceled payment, this might have happened due to:
Not supported Line of Business
Click here to know more about which type of businesses are not supported by Payoneer.
Payment from an Individual
Payoneer supports bank transfer only from a business to another business. So if an individuo sent you a bank transfer, it will be rejected and returned to the payer. If your company provided a service to an individual, sent them a payment request for credit card payment.
If you had a payment that never arrived in your account this might have happened due to the following:
Fed Wire or SWIFT payments sent to ACH accounts:
Sometimes, your payer might send you a payment through the Fed Wire network to a Payoneer account that only accepts ACH transfers. In this case, please request your payer to send an ACH payment. Please request a Citi Bank account from our Customer Care team if possible to receive a Fed Wire payment in the future.
Use of Funds
Withdraw to Bank
Remember that you can withdraw your funds to different banks around the world. The only condition is that the beneficiary of the bank account must be the same of the Payoneer account.
In Brazil, we have a local partner to do this process in BRL that is Banco Inter. Please click here to check the full workflow with them.
What is Banco Inter?
Banco Inter is an international payments company with operations in the United States, Canada, and Brazil. In Brazil, it's a payment hub connected to several financial institutions to process international payments.

Why did I receive a Banco Inter email asking for additional documents if I receive payments from Payoneer?
You can relax: Banco Inter is a service provider hired by Payoneer to process funds transfers in Brazil and help with the local regulatory demands.

How to withdraw your funds in Brazil from Payoneer to Banco Inter
Check out what you need to know to receive your Payoneer funds in your Brazilian bank account in Reais. That's when a partnership that works hand in hand with Payoneer in the country comes to place: Banco Inter.

What are the legal foundations for requiring these documents?
All international transfers must follow the rules designated by the Central Bank of Brazil. One of the obligations set by BACEN is to collect information and documents to ensure that transactions are legitimate and do not have evidence of money laundering. In other words, make the process safer for yourself.

Why must I provide information and documentation?
Because sometimes, we will need to know more about your company and the reason why you are receiving payments outside of Brazil. We must also verify the origin of the received amount from abroad and identify if the company correctly reports Payoneer's international payments.If you need to contact them regarding a withdrawal, please use the following channels: Whatsapp +55 (011) 3230-3446 or through email at customerservice@inter.com
In Argentina, we have a partnership with Santander:
If you have a USD savings account at Santander Rio, you will be able to receive your USD directly.
Payoneer: 2% withdrawal fee
Santander Río: fixed 20 USD + 0.125% variable fee.To know more about it, click here
PREX for Uruguay and Argentina: Use this solution to have immediate withdrawals to your Prex account with excellent exchange rates. How it works?
1. Download Prex Argentina and open your account.
2 .Create the code for Prex Uruguay.
3 .Download Prex UY and follow the steps to validate your identity.
4. Link your Payoneer as a withdrawal account and you can now withdraw your money.Making adjusting entriesProducing financial statements
Here Are Some Important Links That Can Help You:
Pay Others
You can use your Payoneer funds to pay for other services. You just need to register the receiver banking details in your Payoneer account, and once approved, you will be able to send the payment in the same section. You will be able can pay anywhere in the world.
Learn more
Send payment to another Payoneer account:
You can pay another Payoneer user if you have a business transaction with them. This transfer will free. But remember that you will only be able to do it in case your source of funds is not only another Payoneer account.
Payoneer Card
The Payoneer card allows you to use your funds in several different ways. It optimizes your costs as you consume your funds directly from your Payoneer balance. The card is available in USD, EUR, GBP, and CAD. Check below the most common use cases of the Payoneer card:
Withdraw cash from ATMs worldwide (accepted on the entire Mastercard network)
Make purchases on e-commerce platforms and apps like Amazon, Aliexpress, eBay, Uber, Airbnb, Paypal, etc.
Request the Virtual Mastercard Digital card in dollars: In addition to online purchases, you can pay for Ads campaigns on Google, Amazon, or Facebook, with 0 fees!
Use your physical Payoneer card on any investment platform/broker that accepts Mastercard. The physical card can be in US dollars, Pounds, Euros, or Canadian dollars
Obs: We allow you to set the limit you want on your card. It costs USD29.90 yearly for the first card, and all additional cards will be free.
Eligibility
You need to receive at least 100 USD in the past six months.
How to order
Log in to Payoneer and click on Settings/Payoneer Cards. In this section, you can access all your current or expired cards. To request a new card, click on Request a Card. Remember that you can request one card per currency. Don't forget to read the clauses and accept the field "I understand and wish to continue" before clicking "Next." In the dropdown menu, choose the currency of your card. Accept all the requirements. Click on Send.
Fees and Currencies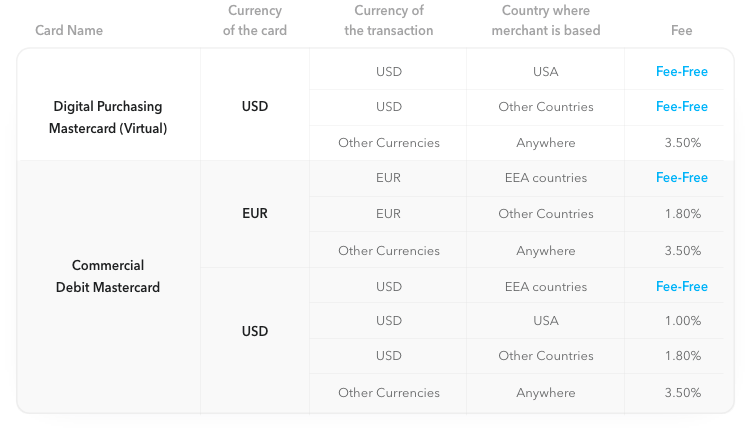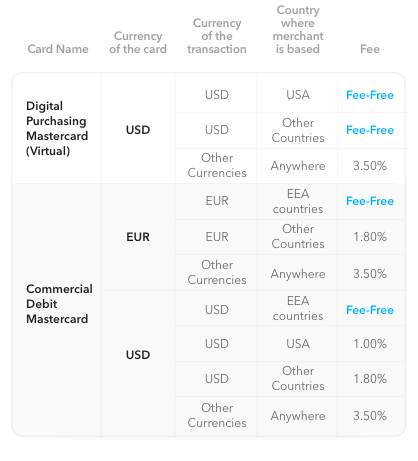 Which card is ideal for me? Physical or Virtual?
Both cards work for purchases in local stores – the virtual card can be used in digital wallets such as Google Pay, Apple Pay, and Samsung Pay and for online purchases. But there are some use cases that we would recommend one or the other:
Choose a Physical Card if your primary use case is:
Withdraw our funds in ATMs around the world
Use your funds for Investments in brokerage firms and exchanges (cryptocurrencies, financial assets, digital assets) on websites such as binance.com, e-toro.com, crypto.com
Choose a Virtual Card if your primary use case is:
Online purchases in general, with an emphasis on purchases in USD.
If you will spend online in USD, our virtual card in this currency has 0% fees. Isn't it great? You can spend your dollars without any extra cost.
Here are a few examples:
Advertising purchases (Google, Facebook, Amazon, Hotmart, etc.)
Buying supplies from abroad or paying suppliers
Streaming and app subscriptions (Netflix, Spotify, Apple, online gaming, etc.)