How do you pay and get paid globally?
Someone you know or work with thinks you could benefit from having a Payoneer account and gave you their referral link. Well, if you've got a growing cross-border business, you've come to the right place.
After receiving your first 1,000 USD* (or equivalent), you and your referrer will both get 25 USD.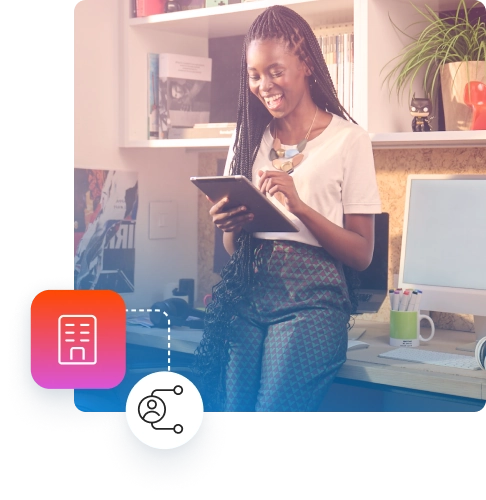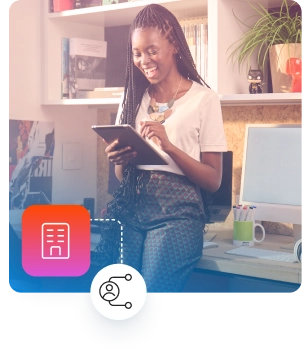 Get your referral reward
---
In addition to simplifying your global payments, you and the person who referred you are eligible for a reward!
---
01
Open your Payoneer account with the button below
02
Receive 1000 USD or equivalent in payments
03
You both receive 25 USD to your Payoneer account
Here's how we can help
It's all about simplifying the way you send and receive payments around the world when your local bank account isn't enough.
We simplify international payments
Get paid by global clients and marketplaces. Pay business expenses, suppliers, contractors, and remote employees. One multi-currency Payoneer account is all you need.
We make it fast and
cost-efficient
It's time to say goodbye to expensive international bank transfers with long wait times, and hello to fast, secure, and low-cost payments.
We make working global feel local
All your global earnings can be withdrawn to your local bank account, with support in 190+ countries.
We strive to add value, always
In addition to paying and getting paid, we have solutions to help with working capital, paying VAT, and more. We're a payment partner for growing businesses.
Money in, money out
There are multiple ways to send and receive money with a Payoneer account. Check out the features of a Payoneer account.
Get paid
There are multiple ways to receive payments for the products and services you sell. It all happens in your Payoneer account.
Local receiving accounts
They work just like a bank account in the regions you do business for a local payment experience.
Request a payment directly
Bill your clients around the world with just a few clicks, and we'll handle the rest.
Use the Payoneer network
Receive payments from other Payoneer users in minutes, including whoever referred you.
Marketplace friendly
From Amazon to Upwork to Airbnb, receive all your marketplace payments with a Payoneer account.
Pay and use funds
Once you get paid, use your funds in multiple ways. It's all about making it easy for you to do business with the world.
Send payments
Send up to 200 payments at once, directly into your contractor or supplier's bank account. Pay other Payoneer customers in minutes
Manage currencies
Easily transfer funds between balances in your account so you always have the currency your business needs.
Withdraw locally
Handle your local business expenses and pay yourself with simple withdrawals supported in 190 countries.
Order a Payoneer card
Powered by Mastercard®, available in USD, EUR, GBP, and CAD for easy spending. Subject to eligibility.
We're here to help
---
If you have any questions about how to get started with your new Payoneer account, we're here for you in 22+ languages.
---
Looking for answers already?
---
We've answered some of the most frequently asked questions here, for your convenience.
Registering through one of the registration links on this page, including this link, will let us know you were referred.
After opening your account, receive 1000 USD (or equivalent) in payments from outside of Payoneer (payments between Payoneer accounts are not included). When you reach this threshold, you and the person who referred you will each get 25 USD credited to your Payoneer USD balance.
Subject to Payoneer Refer a Friend Program Terms and Conditions.
Payoneer is the leading cross-border business payment platform, enabling entrepreneurs, freelancers, and business owners to pay and get paid around the world.
Just imagine a world where all your business payments can be seen in one place and then create your Payoneer account and make it a reality.
We offer a variety of ways to
request and receive payments from clients and marketplaces in 190+ countries and territories
pay your remote team, contractors, suppliers around the world
manage your international earnings in USD, GBP, EUR, CAD, AUD, SGD, HKD, JPY, CNY, and AED
access working capital for your business
All payments processed through Payoneer are made through a fully compliant, secure, and regularly audited payments platform that is recognized by financial regulators all around the world. Payoneer operates globally and is regulated in many jurisdictions. For a full list of our licenses, visit our Security Center.
Just click on one of the registration buttons that are on this page and provide some information about your business so that we can get to know you better. Some services will be available faster than others depending on the regulations in your country and the documents we need to collect and review.
Learn more about how to open a Payoneer account.
There are a variety of options to receive money with your Payoneer account:
Local receiving accounts are like bank account details from Payoneer. While we aren't a bank, the account details we provide you can receive funds just like a bank account would so your clients or marketplaces like Amazon can send you payments.
Request a payment directly from clients who can pay you via multiple payment methods including credit card, bank transfer, ACH bank debit (US only), and direct bank payment (UK only).
Marketplace payments from hundreds of the world's leading marketplaces like Walmart, Wish, eBay and more can be received seamlessly thanks to our integrations with them. Just select Payoneer as your payout method and watch the funds roll in.
Learn more about how to get paid with Payoneer.
Payoneer is the world's leading payments platform built especially for international businesses like yours. We offer a variety of services and tools designed to help you grow your global business. Like all financial services, we charge fees, but we try to keep them as competitive as we can. For a full list of our fees, check our pricing page.
We support withdrawals to bank accounts in 190+ countries and 70 currencies. Add multiple bank accounts to your Payoneer account to withdraw your funds at any time. Withdrawals typically arrive in your account within 2 business days.
Learn more about how to withdraw funds from your Payoneer account.